Dental Fillings That Make Your Teeth Look Like New
Wherever we can, we restore teeth to look as natural as possible. At Indigo Little in Balham, we design and craft tooth-like "natural" dental fillings using composite material matched to your tooth colour at the chair-side.
Dr Kishanie Little will always take the time to do this, even if she is restoring a back tooth that only she will get to see when she does your next check-up. We take pride in our attention to detail.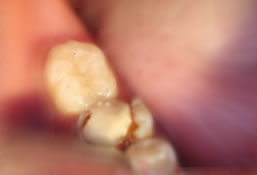 Fixing badly broken teeth
This patient came to see Dr Little with badly broken down teeth. The back tooth was completely restored in composite, a tooth-like material, at the chair-side. The procedure took one hour from start to finish. The extremely broken down brown tooth in front was extracted and replaced by an implant.
Another example:
Before: A decayed tooth
After: Decay removed and an aesthetic
composite filling placed