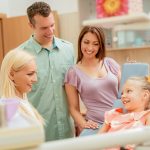 Countless individuals harbour dental-related phobias. Thankfully, there are a number of effective methods to reduce this anxiety. As a result, you will be more likely to care for your teeth and to avoid unnecessary procedures.
– Speak with a dentist about your fears; he or she will likely answer any questions that you may have.
– You may be able to undergo sedation during the treatment itself.
– It is a good idea to bring a friend, as there is always emotional strength in numbers.
"When it comes to going to the dentist, it is often the anticipation that is a lot worse than the actual experience."
Learn more:
https://www.huffingtonpost.com/entry/best-ways-to-overcome-your-dental-fears_us_59d2631ae4b0f58902e5ce30
Posted by adwords on 22nd November 2017, under Miscellaneous