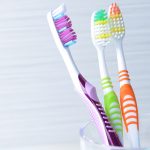 Storing a toothbrush in the correct manner will help keep it clean. A clean toothbrush helps keep teeth clean too as part of a good overall oral health routine.
Key takeaways:
– Store a toothbrush in an upright position and in a space which is not enclosed, allowing it to air.
– Do not share a toothbrush as this can pass on bacteria, leading to dental issues which may require treatment by a dentist.
– Use tap water to rinse a toothbrush after each use to remove any food particles, toothpaste and bacteria.
"Keeping your toothbrush enclosed in a space where it can't air out will keep your toothbrush moist between cleanings and allow bacteria to grow."
Read the full story here
https://yourdentalhealthresource.com/top-tips-for-storing-your-toothbrush-and-keeping-it-clean/
Posted by adwords on 21st September 2018, under Miscellaneous