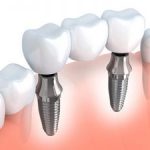 A bridge that is supported by dental implants – instead of your natural teeth – is an option that appeals to many people Are you a good candidate for this option?
Although an implant-supported bridge can be used to replace a single missing tooth, it is better suited for people who are missing two or more teeth in a row. A dentist will recommend this after considering this and other criteria.
The chief requirements for having an implant-supported bridge are:
– Must have sufficient jawbone to hold the implants
– Must get treatment for gum disease and other problems first
– Must be a non-smoker or a very light smoker as this affects healing
If you have damaged or missing teeth that need replacing you should "talk with your dentist about an implant supported bridge" and you can read more about the procedure at https://yourdentalhealthresource.com/who-is-a-candidate-for-an-implant-supported-bridge/.
Posted by adwords on 24th April 2018, under Miscellaneous