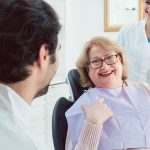 It can become harder to maintain good dental health as you get older. Ageing can bring certain conditions which increases the risks to your teeth and gums.
Key takeaways:
Maintain a good, consistent oral care routine, including regular dentist appointments, to prevent gum disease.
Saliva helps reduce bacteria levels in the mouth, but some medications and treatments can lead to a lack of saliva.
The risk from oral cancer increases with age, but you can be screened for the disease at your regular dentist check-ups.
Seniors may benefit from prescription-strength fluoride toothpaste, for added protection against cavities.
"If painful arthritis or another physical limitation makes brushing and flossing more difficult for you, your dentist can suggest dental products to simplify homecare while still cleaning your teeth effectively."
Read the full story here
https://www.colgate.com/en-us/oral-health/life-stages/oral-care-age-55-up/good-dental-hygiene-for-seniors-with-dental-complications-1014
Posted by adwords on 20th August 2019, under Miscellaneous